RCOS "Professional Series" Equatorial Fork Mounts
Specifically designed for the RC Optical Systems 20RC and 24RC.
| | | | |
| --- | --- | --- | --- |
| Product Review / Reference Information | Author | Date | File |
| 24RC and Professional Series Equatorial Fork Mount | Mike Rice | January 2007 | PDF - 397KB |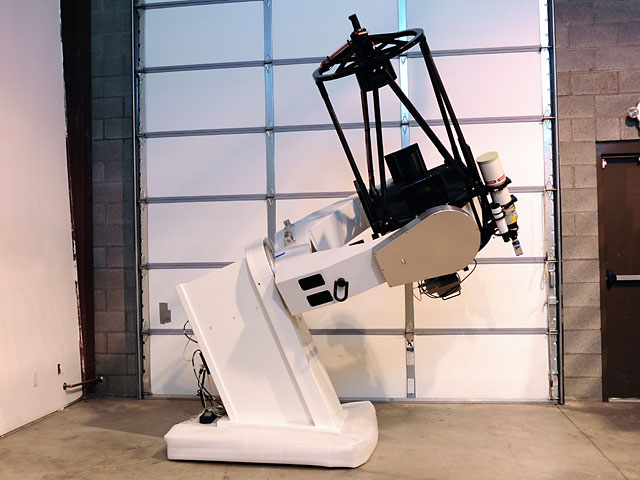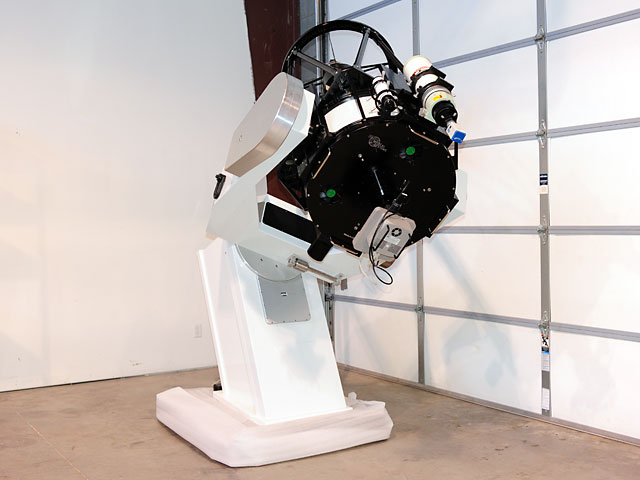 Fork Specifications:
CAD designed, engineered and modeled.
100% CNC machined.
Fabricated (and then welded) 6061 aluminum.
34 inch span between fork arms.
32.5 inch "swing through" clearance from center of rotation.
Bearing axis is line bored after final assembly.
Byer's 15 inch Research Grade Dec gear.
Polar Axis Specifications:
CAD designed, engineered and modeled.
100% CNC Machined.
Payload Capacity - 1000+ pounds.
Major Axis Bearing - 16 inch O.D.
Fabricated 7075 aluminum.
Stainless Steel polar shaft.
Bearing axis is line bored after final assembly.
Precision polar alignment adjustments in Altitude and Azimuth.
Byer's 20 inch Research Grade RA gear.
Major Bearing diameter is 16" O.D. and the Minor Bearing is 10" O.D.
The polar axle is a 9" O.D. cast 303 Stainless Steel tube with an 18" diameter 7075 aluminum hub pressed into place. The entire assembly is then machined (in a lathe) as one piece.
The finished Polar Axle alone weights 175 pounds.
Software Bisque Servo Driven Professional Version TCS MKS-4000 Control System:
Brushless DC-servo motors ensure long life and smooth operation.
Field upgradeable flash RAM permits easy software updates.
Fast slew speeds and consistent torque at all slew rates. A maximum rate of three degrees per second in right ascension and three degrees per second in declination gets you to the object, fast.
Virtually unlimited selection of tracking and slew rate control.
AutoHome™ capability (to better than one arc second) with built-in sensor circuitry on each axis ensure that the mount always knows its orientation (after a one-time initialization), even after power failure.
Software controlled "hard limits" prevent the mount from tracking or slewing into itself.
User-defined parameters can be stored to onboard flash RAM.
Numerous safety features critical to remote operation including current-limit protection, encoder-error limits, acceleration ramping, and user-definable maximum slew speeds.
Joystick or PC software control.
Programmable and updateable Periodic Error Correction.
Control system can track at true lunar, solar, minor planet or comet, NEO or LEO satellite rates, or at almost any user-defined rate (when used with TheSky). No other commercially available control system can make this claim.
TheSky has been updated to provide many new capabilities that were previously not possible. Some examples of these new features include: display a graph of the periodic error of the worm gear; track a low-earth satellite by clicking on the object on the Sky Display.